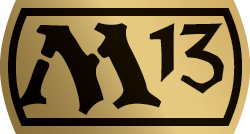 Pre-release dates: July 7-8
Release date: July 13
Gameday: August 4-5
UNFORTUNATELY, i've been googling about and found MTGSalvation has a worded spoiler out with some very low quality pictures up, so i'll be updating this as more and more is released. Or Kraykray.
And some of this is subject to change of Wizards decides to do anything.
For more noncard infor:
http://www.wizards.com/magic/magazine/article.aspx?x=mtg/daily/arcana/877
Spoiler Sorce:
http://mtgsalvation.com/magic-2013-m13-spoiler.html
There's a certain keyword coming back...
Exalted
! (oddly in the Black creatures thanks to Nefarox who's from Grixis!)
Exalted
states "Whenever a creature attacks alone, it gets +1/+1" which is the opposite concept of battlecry, which buffs other attacking creatures.
Now exalted triggers even if it ISN'T the creature attacking, as long as you attack with only ONE creature, all instances of Exalted will trigger! This is useful with unblockable creatures, and possiably infect (which is won't be standard for long once M13 actually comes out).
Lots of reprints of course.
O-Ring is staying along with New Jace, Chandra, and M12 Garruk, and also Big Bad Nicol Bolas.

Negate and Essence Scatter are hopping into M13 thanks to the absance of Mana Leak or even Cancel (but we have Dissipate).

Pacifism, Serra's Avatar, Duress, Good ol' Vampire Nocturnus and Vampire Nighthawk.

Even Prey Upon (which was actually LAST set) is in here! Fight is staying around, if ever so faintly.

Lots and lots in here.
Also there's a few new little cards to look at (since they will probably get ignored for a bit):
Murder is "(1)BB" instant that says "Destroy target creature." For 1 more black mana, its like a no-restriction Doom Blade, however, that 1 extra cost may make this card unsavory as we still have that nifty one-drop Tragic Slip laying around.

Searing Spear is essencally a "(1)R" lighting bolt. Its an instant that deals 3 damage. It appears like an atempt at making old good cards more balenced.

Worldfire is a (6)RRR Sorcery that Exiles all permanents, Exiles all cards from all hands and graveyards, and sets each player's life total to 1. Topdecking for the win ;n;

Jace's Phantasm is a "U" flying 1/1 Illusion Creature that as long as an oppenent has ten or more cards in their graveyard, it gets +4/+4. This card seems great, its a 1 drop, New Jace is in here too so his [0] abillity just makes this card's effect active in a heartbeat (after 5 turns to cast Jace of course). BUT!!!
Mind Scupt, another new card, is a "(1)U" sorcery that makes your oppenent mill 7. So there is SOME synergy around here.

Green Boundless Realms that is a "(6)G" sorcey that says "Search your deck for X basic land cards, where X is the number of basic land cards you control, and put them into the battlefield tapped. Shuffle your deck." Now this SOUNDS crazy and it is, since ramping to 7 doesn't seem as hard as it sounds. It still cost a whole hell of a lot.

Crusader of Odric is a "(2)W" Creature Human Soldier who's P/T equal the number of creatures you control. Seems like a neat follow up from all those crazy tokens from Innastrad.

Tormod's Crypt is a ZERO drop artifact that says "tap, sacrfice this card: Exile all cards in target player's graveyard." To me this is wow, since its free. Pretty good side or whatever!
Some cards:
Spoiler:
Just some nice large art, WARNING it is LARGE:
Spoiler:
I looks like the links to the pictures got killed, just head to the first link on the bottom of this post to see them.
Seems Avaycn's lackeys are getting out there some how.
Also, some of these guys tie into the new Ravnica Block appearently so keep your ears perked up for that.
I'll size them down later, I'm at the library right now. And also I'm not sure how many of those are M13 or Ravnica so I'll take them down or something if they turn out not to be in M13. Or I'll just leave them be.
I'll update every once in a while. :3
Links and Images.
http://www.magicspoiler.com/mtg-news/new-mtg-art-from-m13-and-return-to-ravnica/
http://mtgsalvation.com/magic-2013-m13-spoiler.html#White